Cochrane Now Written by Noel Edey Thursday, Jun 09 2022, 3:30 PM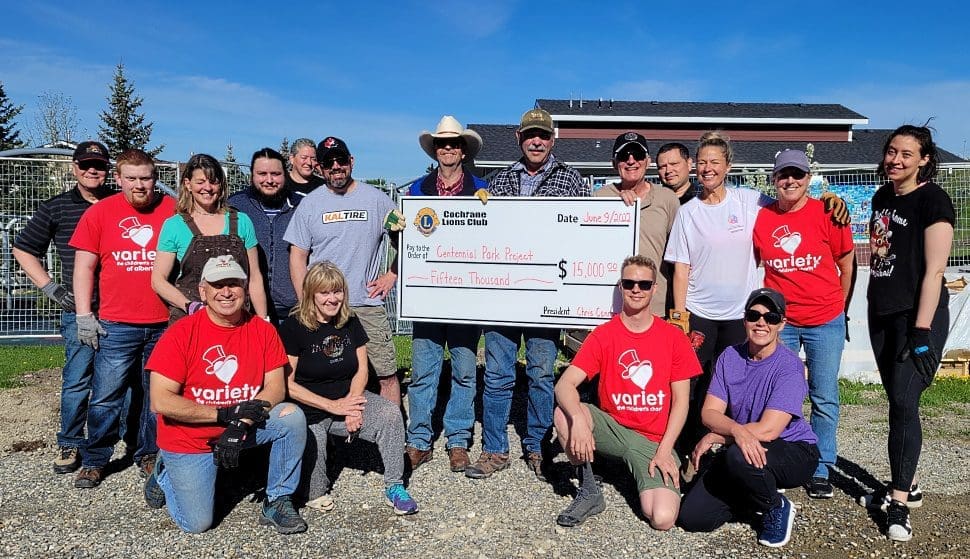 With the area already cleared of old equipment, volunteers are hard at work today installing the inclusive equipment at the Centennial Playground.
Over the course of three days, almost 50 volunteers will complete the project to the excitement of Cochrane families, especially those on the east side of town.
It won't be quite ready to use at that point. The new rubber surface, a key part of making it accessible for children living with disabilities, will need to be installed, and the landscaping completed.
Larry Horeczy, chief operating officer for Variety – the Children's Charity, says the project has a total value of about $300,000 and has been made possible by the community coming together.
"It doesn't happen without everybody pulling together and we're very pleased that we have such a broad group of people and all the different businesses contributing to making it possible," says Horeczy.
He says Variety's goal is to partner with towns, community organizations and businesses to build and rebuild such playgrounds.
"Variety – the Children's Charity exists to make our communities more inclusive for children living with disabilities. The reality is, over 90 percent of all our playgrounds are not even accessible," he explains.
This one had older equipment beyond its lifespan and the surface was no longer safe.
He says the volunteers are a cross-section of people from the community with a strong representation from the Kiwanis, Rotary, and Lions Club. Kal-Tire, who made a financial contribution, also had volunteers at the playground this morning.
A $15,000 donation was presented this morning by the Cochrane Lions Club. It's one of many donations that have made this project possible. The town is contributing some labour and equipment as well as the new surface that was scheduled for replacement.
Lions Club secretary Jim Thorne says the Lions helped to fund the originally Centennial Playground and we're equally eager to assist this time around.
"Like most service clubs in town, we want to be involved with making the community better, and the life of everybody living here better, so we have a number of members volunteering over three days to help out this playground together."
Kiwanis was Variety's original partner in spearheading the project and helped to bring people together.